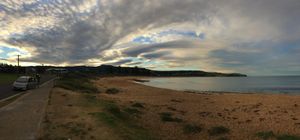 Biography
Quote: 
(Paul  Robertson,  Executive  Producer,  Northern  Beaches  Music  Festival.)
"Hello  music  lovers!!  For  those  of  you  who  haven't  had  the  good  fortune  to  see  and hear  the  band  Bad  Kitty  and  the  AlleyCats,  you're  missing  out!  This is a  trio in full blossom  with  fantastic  instrumentation,  tight  harmonies  and  glorious  singing, presenting  a  vast  repertoire  of  'Contemporary  Acoustic'  music,  consisting  of beautifully  crafted  originals  and  an  incredible  selection  of  the  who's  who  of  covers, Joni  Mitchell,  David  Crosby,  Blood  Sweat  &  Tears,  even  Donny  Hathaway!"
Bio:
Sydney  based  trio,  Bad  Kitty  and  the  AlleyCats,  is  a  band  that  is  willing  to  embrace and  provide  intimacy,  connection  and  joy  to  their  audience,  whether  it  be  via  their original  songs  or  intriguing  arrangements  of  familiar  covers.   The  band  relish  playing  soft,  subtle  ballads,  blues  and  soul  that  resonate  with  the heart,  but  are  just  as  comfortable  pounding  out  funky  rhythms,  country  twang, bluegrass  or  folk,  with  a  little  bit  of  pop  thrown  in  for  good  measure.  Their  decisive chord  progressions,  melodies  &  harmonies,  both  vocal  and  instrumental,  are  often imbued  with  a  jazz  sensibility.  Think  acoustic  Americana  come  jazzy  folk.   This  is  music  that  insists  you  not  only  tap  your  foot,  or  sway  your  hips,  but  invites surrender to  total  immersion.  The  band's  art  is  to  redefine  the  huge  back-catalogue  of  their combined  and  extremely  diverse  musical  tastes  by  designing  unique  and  exciting arrangements  of  covers  and  originals.  This  is  what  ultimately  defines  the  band.
Susan's  warm  alto  voice  is  the  heart  of  the  band's  sound.  Classical  and  jazz  training has  provided  a  strong  platform  on  which  to  convey  a  thoughtful  lyric  and  melody whilst  also  allowing  her  to  dive  into  one  of  her  greatest  loves,  vocal  harmony.  Pierre and  Susan  have  a  vocal  match  made  in  heaven.  Percussion  features  heavily  in  Susan's agenda.  She  lays  the  groove  down,  no  question!
Andrew  Hoyle  is  a  versatile  instrumentalist  who  has  explored  guitar,  piano  & saxophone  on  his  musical  journey,  honing  his  skills  in  a  range  of  bands  that  includes the  peninsular  darlings,  Bobby  Sox  before  electing  to  focus  down  on  the  art  of contemporary  acoustic  guitar.  He  offers  the  core  of  the  band's  broad,  bright  sound from  his  beloved  Martin  D18  and  D28  acoustic  guitars.   A new phase for  Andrew  has  been  to  broach  a  vocal  contribution  &  his  progression  in just  a  short  time  has  been  exemplary.  Bad  Kitty  now  has  a  strong  &  varied  harmony sound  that  is  becoming  a  trademark.

Pierre  Luniere's  rich  baritone  takes  the  lead  vocal  on  occasion  but  most  of  the  time  is the  vocal  harmony  stalwart  of  the  band,  shadowing  Susan  in  most  songs,  seemingly impervious  to  distraction  from  his  pulse-driven  acoustic  bass  lines.  He  provides sublime  lines  of  acoustic  bass  in  its  sweet,  melodic  upper  register  during  solo opportunities.  
Whilst  being  relatively  new  on  the  Sydney  music  scene,  Bad  Kitty  and  the  AlleyCats have  proven,  on  stage  and  in  the  studio,  that  their approach  is  captivating,  an intricate but still transparent soundscape.  The  band  delivers  a  huge  impression  for  a  three piece  outfit,  definitely  bigger  than  the  sum  of  its  parts,  with  a  frequent  post-gig observation  being:  "What  big  a  sound  you  have  for  three  people!".
Bad  Kitty  and  the  AlleyCats  has  so  far  recorded  four  songs  which  are  available  from their  website's  /tracks page,  2  covers  &  2  originals.  Songwriting  tends  to  be  a communal  exercise  with  pierre  usually  adopting  the  role  of  wordsmith,  always making  sure  there's  a  strong,  grounded  bass  line.    Andrew's  expertise  is  exemplified   in  his  magical  chord  progressions,  informed  &  driven  by  his  love  of  jazz  harmony, and  Susan  will  lay  down  a  sweet  melody  to  bring  it  all  together.  The  band  has  made good  use  of  the  down-time  due  to  COVID  19  and  is  busily  rehearsing  and  writing new material.   They  envisage  new  recordings  being  available mid 2022